Deaf Awareness Week 06.05.19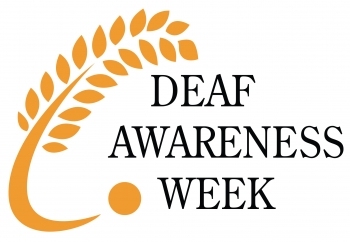 As mentioned before the Easter holidays, next week we will be supporting Deaf Awareness Week at Whitefield.
Throughout the week we will be learning about how deaf people can communicate with others and how we can learn to communicate effectively with deaf people.
We are excited to welcome Shelby Hillbeck to school on Tuesday 7th May who will launch our week of new learning with an assembly on Tuesday morning.
We have also managed to persuade our lovely teacher Mrs Huxtable away from her maternity leave to come in and work with the children on Wednesday morning. Thank goodness Mrs Anforth doesn't work on Wednesdays and can babysit the beautiful Matty for her!
And on Tuesday 7th May we are having a CRAZY HEAD GEAR DAY – wear a headband, a cap, some slides, deelie boppers (remember those old people?). There is NO monetary contribution for this day – the aim is to show how putting on your head accessories is just the same for those with cochlear impants; it's normal and it's what makes each and every one of us individual.